The US is faced with an ever-growing wild hog population and officials are taking a closer look at feral hog control within the state of Texas. Although most all of the state is plagued by these powerful, highly mobile rooters, landowners in the central part of the state may be interested in an upcoming hog workshop. The Texas A&M AgriLife Extension Service offices in Hamilton and Coryell counties will conduct a feral hog workshop on November 22 at the Gatesville Civic Center, 301 Complex Circle, Gatesville.
The feral hog control program will open with registration at 7:30 a.m. and should conclude by 12:30 p.m. The program, which includes lunch, is free and open to the public. For more information and to RSVP by November 18, call Chelsea Dorward, AgriLife Extension agent in Hamilton County, at 254-386-3919; Pasquale Swaner, AgriLife Extension agent in Coryell County, at 254-865-2414; or Dan Gaskins, AgriLife Extension assistant, Gatesville, at 254-248-0562. Three Texas Department of Agriculture continuing education units will be offered.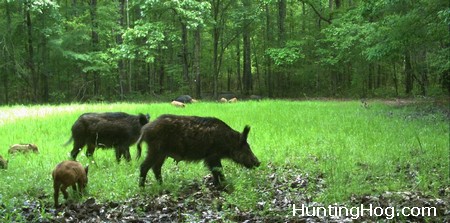 "This program is being held in the Leon River Watershed in Coryell and Hamilton counties as a part of their County Hog Abatement Matching Program or CHAMP," Gaskins said. "CHAMP is a grant from the Texas Department of Agriculture meant to assist counties with feral hog abatement," Gaskins said. "Coryell, Hamilton, Falls, Milam and Bell counties received a total of $25,000 in state funds that they must match for a total of $50,000 or $10,000 per county.
Since part of that money must be used for educational purposes, Hamilton and Coryell counties are going together to fulfill that requirement through this workshop." Gaskins said the counties have put together a concise program with talks planned that mainly deal with the components of successfully managing feral hog populations. After Gaskins' introductory overview on feral hog history, biology and impacts, the program will continue with topics and speakers to include:
Feral Hog Control Methods, Lawrence Pruett, Wildlife Services trapper for Coryell County.
Feral Hog Hunting Regulations, Jim Daniel, Hamilton County Texas Parks and Wildlife Department game warden.

Feral Hogs and the Leon River Watershed, Mike Marshall, Leon River Watershed coordinator, Gatesville.

Disease Concerns and Regulations, a Texas Animal Health Commission representative.

Feral Hog Programs in Your County, Don Jones and Johnny Wagner, Coryell and Hamilton County commissioners, respectively.