How can feral hogs be managed? Good question!
Texas A&M AgriLife Research and Extension and the Lampasas River Watershed Partnership are hosting a workshop for stakeholders in and around the Lampasas River watershed to learn more about feral hog management on October 16 at the Grace Fellowship Church, 2974 U.S. Highway 281 in Lampasas. Sign in for the workshop begins at 8:00 a.m. and the program will last from 8:30 a.m. to 4 p.m.
The wild hog workshop is a joint effort among Texas A&M AgriLife Extension Service, Texas A&M AgriLife Research, the Lampasas River Watershed Partnership and the Texas State Soil and Water Conservation Board and is a part of the Education and Outreach Strategy included in the Lampasas River Watershed Protection Plan. Pre-registration is required and is $15, and includes lunch. Please pre-register by contacting Lisa Prcin at lprcin@brc.tamus.edu or by calling 254-774-6008. Participants may register at the door, for an $5 late fee.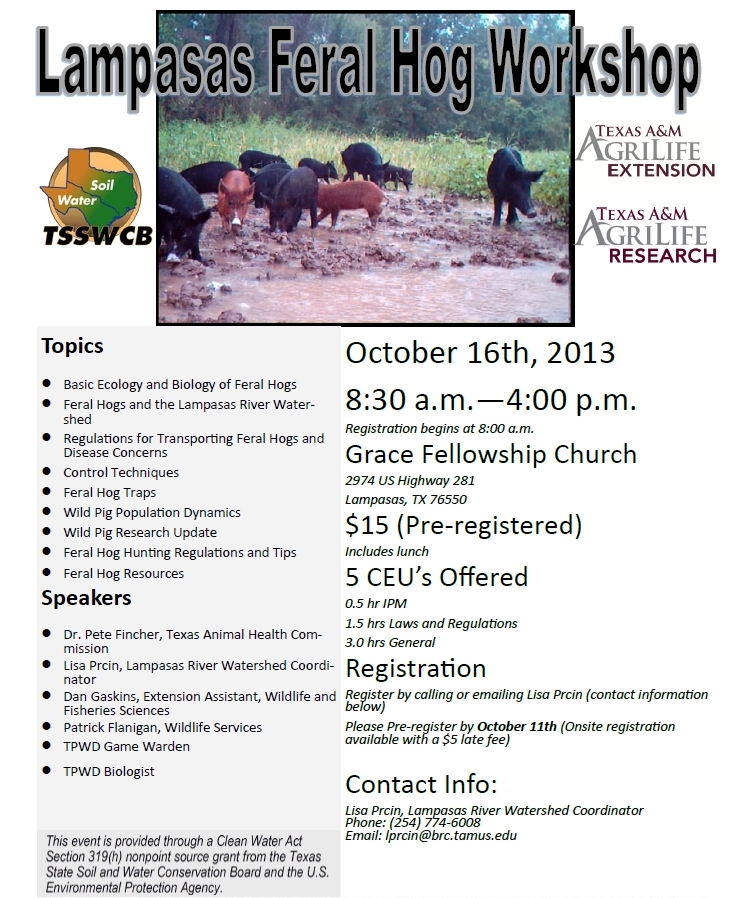 Five Texas Department of Agriculture continuing education units, 0.5 integrated pest management, 1.5 laws and regulations and three general, will be available to current private applicator license holders.
Topics will include basic feral hog ecology and biology, feral hogs and the Lampasas River watershed, feral hog trapping and transportation regulations and related disease concerns, control techniques, population dynamics, research update, techniques for hog hunting and feral hog resources.