Hog Wild!
The Lone Star State is well known for its white-tailed deer, but hog hunting in Texas is about as good or better than any other place on the map. And it looks like Texas' wildlife agency, Texas Parks and Wildlife Department (TPWD), is providing hunters with another opportunity to get out there and hunt wild pigs, but you have to enter their Big Time Texas Hunts before October 15. And if you missed this year's, it's never too early to get ready for the next one.
The Big Time Texas Hunts offer in state and out of state hunters a chance to experience the best hunting packages in Texas with an opportunity to win one or more top guided hunts with food and lodging provided, as well as taxidermy in some cases. The new category added this year is the the Wild Hog Adventure, which is an opportunity for one winner and up to three hunting guests to go hog wild on a long weekend trip for trophy Texas wild boar.
The hog hunt winners will pursue elusive free-range feral hogs on a private ranch, where harvested pigs average 125 pounds and have tipped the scales at up to 465 pounds. Food, lodging, transportation to and from the stand, and skinning and quartering of harvested hogs is provided on this hunt.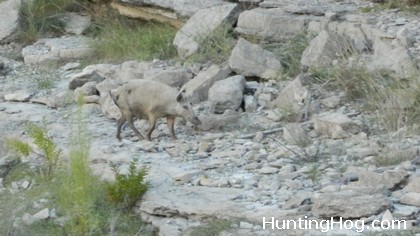 Deer Hunting and More
In addition to the new feral hog hunt, the always popular Texas Grand Slam hunt package is up for grabs. This hunt includes four separate hunts for Texas' most prized big game animals — the desert bighorn sheep, white-tailed deer, mule deer and pronghorn antelope. There are several quality whitetail hunting packages available, as well as opportunities to pursue alligator, exotic big game,duck, geese and upland game birds.
The Big Time Texas Hunts generates hundreds of thousands of dollars each year, with proceeds dedicated to providing more public hunting opportunity and to funding wildlife conservation and research programs in Texas.
The Details
Entries for the Big Time Texas Hunts are $9 if purchased online and $10 if purchased at a license retailer or over the phone at 800-895-4248. Online purchases will include a $5 administrative fee per transaction, meaning hunters can buy as many entries as they wish online for one fee. There is no limit to the number of entries an individual may purchase. Purchasers must be 17 years of age or older. Interested hunters can purchase Big Time Texas Hunts entries online.