There is no doubt that feral hog hunting has gone to the next level. Once a purely recreational sport, controlling wild hogs has become a beast of its own, with the state now offering money to kill these non-native animals. Wild hogs are not game animals and are considered feral livestock. They cause agriculture damages and losses than go into the millions of dollars in Texas. In an ongoing effort to protect Texans from the costly destruction caused by feral hogs, Agriculture Commissioner Todd Staples announced the Texas Department of Agriculture is accepting grant applications to assist regional efforts to control feral hog populations. Grant funds are made available through TDA's new County Hog Abatement Matching Program (CHAMP).
"The feral hog population has exploded in the last 20 years, and our ability to control this will depend on two primary factors," Commissioner Staples said. "First, our efforts must be coordinated across all public entities and private landowners. Second, we must focus on the most low-cost, high-return methods when investing limited taxpayer dollars into this effort. The CHAMP grant accomplishes both of these by building on the successes of recent initiatives."
Texas is home to the largest feral hog population in the United States with nearly 2.6 million feral hogs causing an estimated $500 million in damage in rural and urban Texas each year. CHAMP is designed to encourage counties across Texas to create partnerships with other counties, local governments, businesses, landowners and associations to reduce the feral hog population and the damage caused by these pests. Eligible activities include both hog trapping and hunting, which may include the aerial helicopter method which is legal with a permit in Texas.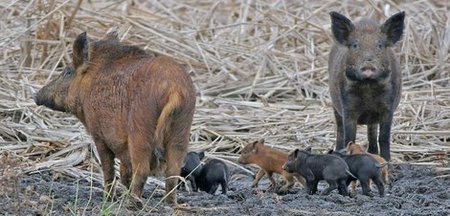 Selected applicants will receive project funding on a cost reimbursement basis. Applicants may request up to $30,000 in funding. Projects are required to meet a minimum match of one dollar for every dollar requested. Applications will be reviewed through a competitive evaluation process.
Individual Texas counties are eligible for CHAMP awards. Each county must partner with at least one other Texas county that has an interest in feral hog abatement.
In 2010, Commissioner Staples created the Hog Out Challenge to encourage locally-initiated feral hog abatement activities in counties across Texas through a coordinated and concentrated attack. This has resulted in some of the lowest-cost, highest-yielding hog removal activities since 2006 when the state began investing in these efforts. CHAMP, in partnership with Hog Out, will strengthen the state's feral hog abatement initiatives by adding a regional focus across multiple counties.
"Feral hogs are destroying front yards, farmers' fields, golf courses and other public and private properties all across Texas, resulting in millions of dollars in damage. This is both an urban and rural problem that directly impacts our economy and the future of Texas agriculture. We need to step up our efforts to thwart these dangerous creatures, and CHAMP does just that," Commissioner Staples said.
The deadline to submit an application for feral hog control money is July 1, 2013. Applications can be downloaded from the TDA website. Selected grant recipients will be announced in August. Until then, it's recommended that everyone keep hog hunting and trapping. With the heat of summer upon us, they should be moving well at night and using water sources during the day.