How effective is sodium nitrite for controlling feral hog populations? That is the questions researcher in Texas are trying to figure out right now. Wild hogs are highly destructive and and highly prolific — a recipe for increased disaster anywhere these animals are found.
Researchers know that sodium nitrite is very good at killing pigs. Once ingested, it results in a quick, humane kill. Researchers have had no problems killing (feral) test subjects, but the problem lies is not killing non-target species. The same is true of using warfarin for feral hog control.
Sodium nitrite is an indiscriminate killer in the wildlife world, which could result in unwanted wildlife casualties if not used properly. Research is being conducted in Texas as we speak that addresses many of the concerns when it comes to sodium nitrite on non-target species, but one study is looking at the possibility of ingested baits becoming available to other animals because of pigs hurling up the bait. No joke.
The study is called, "Evaluation of Vomit Characteristics in Microencapsulate Sodium Nitrite Bait Forumluations on Captive Feral Pigs." Researchers are leaving no stone un-turned in when it comes to targeting feral hogs, but protecting non-target animals, using sodium nitrite.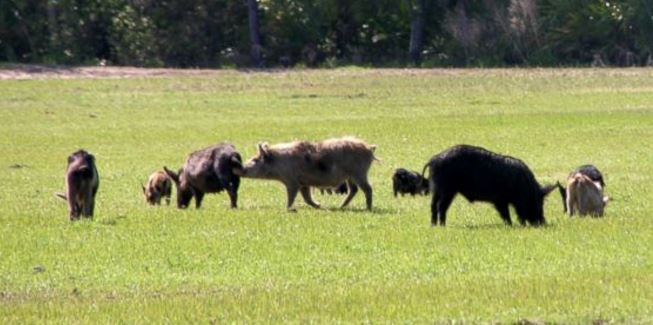 Sodium Nitrite Retention in Feral Hogs
Abstract: "Feral pigs are one of the most ecologically destructive species in North America and populations are expanding across the U.S. Current harvest methods fall vastly short of the required removal rate (>70%), therefore, the U.S. requires additional feral pig control methods (i.e., toxicants). Due to feral pigs' susceptibility to nitrite poisoning, microencapsulated sodium nitrite (MESN) was selected as the active toxicant agent.
Vomiting is a documented side-effect of nitrite poisoning in pigs but the frequency of vomit and concentrations of residual MESN in vomit remain unknown. We compared 5 unique MESN formulations (2 gastric, 3 enteric) on captive feral pigs (n = 45) to identify the best performing candidate based on the occurrence of 26 vomit, time from dosage to initial vomit occurrence, and residual MESN levels in vomit.
We recorded a 97.78% mortality rate (n = 44) and 80.00% vomit rate (n = 36). Vomit was a strong indicator of lethal dosage delivery as all vomiting pigs (100.00%) resulted in a mortality. Gastric formulation 13 recorded significantly fewer vomit attempts compared to formulations 20, 23, 24 (p ≤ 0.05). Time to first vomit was significantly reduced in formulations 13 (p = 0.008) and 20 (p = 0.044), but overall there was no correlation between time to first vomit and concentrations of residual SN in vomitus (p = 0.328).
Ion chromatography tests identified a 90% reduction of available nitrite in vomitus compared to the initial dosage amount, highlighting MESN's efficiency in producing lethality in feral pigs while minimizing environmental risk."
Researchers Examining Sodium Nitrite on Feral Hogs
Grant S. Lawrence, Borderlands Research Institute, Natural Resource Management Department, Sul Ross State University, Alpine, TX 79830, USA
Justin A. Foster, Texas Parks and Wildlife Department, Kerr Wildlife Management Area, Hunt, TX 78024, USA
John C. Kinsey, Texas Parks and Wildlife Department, Kerr Wildlife Management Area, Hunt, TX 78024, USA
Ryan S. Luna, Borderlands Research Institute, Natural Resource Management Department, Sul Ross State University, Alpine, TX 79830, USA